Posted by Theo Heselmans on October 29th, 2008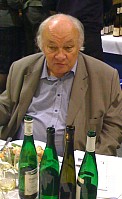 Yesterday evening I was invited to an exceptional German Riesling tasting event, organized by 'Knack Kookclub',
presented by one of Belgians most famous (and controversial) wine-gurus: Herwig Van Hove.
He writes wine-columns and books, is a chemist and a cook, and is reputed for giving his unsalted opinion. An example:
"Most restaurants should be ashamed to sell triple or quadruple priced bottles of wine,
in which they themselves did not put in any added value"
(an argument which was strongly contested by a horeca-representative present)
Anyway, both had a point.
The tasting itself consisted of 15 German Rieslings older than 10 years (the oldest: 1989). These top-15 were a result of sampling and evaluating over 300 submitted bottles.
Germany has a rather different approach to wine making. They control the quality first (consumer perspective), while in most other countries, the origin/appellation is guarded (producer-centric). Wines are grouped by the amount of residual sugar. Adding sugar to the wine is strictly forbidden in Germany.
Chaptalization
as it is called is common practice in a lot of regions all over the world, and it 'a must' in Champagne (another one of Herwig's headaches).
German Rieslings tend to be sweet (even when dry), but the sweetness hardly ever dominates, as it is usually compensated by enough acidity.

We tasted the wines in groups, depending on the sugar levels:
4 Trocken (dry: less then 7 gr. residual sugar per liter) or Halbtrocken (off-dry: <15 gr./l.)
Here my favorite was an Auslese Trocken 1994 Briedeler Nonnengarten from Zum Eulentum, Briedel
3 Spätlese Halbtrocken (sugar level between 15 and 25 gr./l.)
My favorite: a 1993 Engehöller Goldemund from Weingut Lanius-Knab
4 Spätlese (between 23 and 54 gr./l. sugar)
Favorite: Merler Adler 1995 from Weingut Albert Kallfelz, Zell-Merl
4 Auslese (sugar: 57 to 62 gr./l.)
Two close finishers, but my best was a 1992 Piesporter Goldtröpchen from Weingut Egon Sprang, Piesport
What I liked was that for each wine the acidity was mentioned too: from 7 up to 10 gr. per liter.
An interesting and instructive evening indeed (if a bit expensive).
Tx Knack, tx Herwig.
Conclusion: I prefer the Alsace Rieslings, as I prefer the less-sweet (read 'more dry, mineral') versions of it. Of course, the comparison is not correct: I should not compare older wines to younger ones.
Who invites me to a German wine tasting of young Rieslings, and who to older Alsatian Rieslings ;-)
Category: Wine |

Technorati: Wine
Comments (0)
0 Responses
No Comments Found
Leave a Reply