Posted by Theo Heselmans on January 22nd, 2010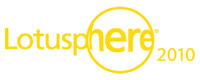 The final day is usually kinda mixed: a couple of sessions, some 'closing' events, and some great networking. Let's go over the day:
Julian Robichaux did an excellent session around iPhone development. Too bad Rob MacDonagh had an emergency at the office; we all missed him.
I had an appointment at the UX lab, and talked to Ethan about Connections (I've been using it for a couple of months, and really did have some UI issues, which apparently will be covered in 3.0 ;-)
Gurupalooza was great as always. It's not really about the questions (nor the answers), but about the wonderful people being on stage. We all admire and respect them, and we owe them a lot. They are the ones that make Lotusphere better then good ! I did not go to the Developer's beating, nor to the closing session (although I met the speaker later on at Kimonos).
Did some shopping afterwards (yes, again). At 17.30h it was time for the 2nd bloggeropen event. Around 40 people gathered for a game of mini-golf. We had loads of fun. I was so lucky to be in the same team as Mary Beth Raven, Kitty Elsmore, Sean Burgess and Steve (sorry, didn't got your last name). I took quite some pictures of everybody. As soon as I've a faster connection (and the time), I'll upload them (to be continued). Phil was the days winner, with a really low score (Steve, Bill and Richard where very close). One anecdote I absolutely need to mention: the last hole, was pretty easy, but one guy managed to need 2 shots in order to complete it (I won't mention names, Luis). Great fun; kudos to the sponsors (Northern Collaborative Technologies and IDoNotes) and Mitch for setting it up.
Had a great dinner at Shula's (a 22 ounce Cowboy steak !). I truly enjoyed the company of Bill, David and Gary. Thanks guys.


As it was pretty early (21.45h), we went to Kimonos. I finally met Peter Presnell, and caught up with a lot of folks: Bruce, Gayle, Bill, Gary, Kitty, Tim (and his wife), Darren, Jess (who's really has a great voice), Kathy, Stuart, Bill Bucan (who has a rather high voice when he's singing ;-), Spanky, Greg, Sean, Phil (and many more).
I couldn't have had a more pleasant ending to a great week in Orlando.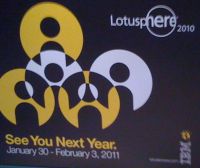 I'm already counting down to next year's event: January 30 - February 3: put it in your calendar, as you don't want to miss this one !
Thanks all for making this a Lotusphere to remember fondly.
2am again: glad I don't have to wake up at 6.30h
Category: Lotus Notes Domino |

Technorati: Lotus, Notes, Domino
Comments (1)
1 Responses
on 23/01/2010 16:44:53Steve Breitenbach

Theo,

I had a great time playing mini golf with the rest of the bloggers and our team. Thanks so much to you, Mary Beth, Kitty, and Sean for making me feel part of the team.

Steve Breitenbach (now you've got my last name.)
Leave a Reply