Posted by Theo Heselmans on January 20th, 2010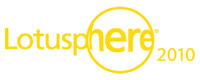 First session: Viktor Krantz and Rob Novak: the great code giveway: awesome as usual. Not as 'contained' as last year, but for me way more useful.
Stephan Wissel and Steve Castledine enhanced our existing applications using Xpages, and they did it in style.
Paul Mooney and Bill Bucan: what can I say: they must have been twins in a previous life; they are so 'in sync'. Hilarious and very educational at the same time. Good thing I saw Billl's pre-session slides up front or I would have ROFLOL.
Declan Lynch and David Leedy (a first timer) pulled it of nicely: CSS and Themes in Xpages: Thanks guys, I learned a lot.
Then it was up to Bruce Elgort and Tim Paque (another newbie), to do some firefighting. Bruce told me yesterday it was all low key, but is was concise, to the point and very much appreciated. Tim: you did just great !!
Networking time again: Too much on my plate this evening. First a dinner with IBM US and Ernst & Young: too bad I had to leave early. Melanie: tx for the invite. I'll try to join you in 2011 too (if you'll have me). Wine tip: we had a d' Arenberg 'Laughing Magpie' 2007 Shiraz: a bit young, but nevertheless excellent !
Then I went to the Teamstudio reception. I fondly remember last year's event, when I has announced the winner of their Spotlight Award. This time it was more subdued, as the winner was not at Lotusphere.
I needed to rush to the dinner, hosted by IBM Belgium/Luxembourg, in Il Mulino, down at the Swan. Both Stijn and Ronny were celebrating their birthday ! Congrats guys. We all had a good time. Thanks Laurent (and Douglas) for a great night: good company good food, good wine and a Talisker to finish: what more can a man want ?
I met Matt White on my way to my room, and I joined him (no, he didn't twist my arm) to Kimono's. Stuart, Paul, Julian, Kathy, Rob, Jess, ..: nice to see you again. The karaoke singers really tried hard (I know I can't sing so I stay off the podium).
Anyway, another marvelous day. 2.50 AM: time to go to bed: NOW !
cu.
Category: Lotus Notes Domino |

Technorati: Lotus, Notes, Domino
Comments (0)
0 Responses
No Comments Found
Leave a Reply