Posted by Theo Heselmans on January 23rd, 2009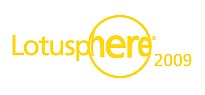 Another 2 exciting days. Less packed (for me) than the previous ones, but definitely interesting.
Here's an overview of what I did/saw:
Bruce Elgort and Matt Whites session on TaskJam (building a World-Class application with XPages) was great. Even the overflow room was full. Very interesting stuff, and to top it of, you can download the complete app. Tx guys.
Stephan Wissel did an entertaining session about all the cool stuff you can do with DXL. Very impressive, rather difficult, and for myself a no-go, until we get full fidelity DXL round-tripping. I was really impressed with his XSLT transformers, allowing you to convert an existing view into an XPage. Great stuff Stephan.
XPages themes seems very powerful. Unfortunately I was sitting in the back, and could hardly read the screen (1024px is a maximum for presenting, and fontsize 10 is really too small), and hardly could hear the speaker.
The Innovation Lab is always a blast to go to. No exception this year. Unfortunately you can't visit every booth (due to time constraints). So I picked a few. Sametime in 3D was really a remarkable work in progress: Combining Sametime meetings with Second Life.
I went the User Experience lab too. They sure take user input serious! I needed to complete a couple of task (in the 8.5 client), while being observed. Boy, did I feel like a newbie. Anyway they seem to be happy with the feedback I gave them.
One of the highlights for me every year is certainly the Product Showcase. All those vendors proudly showing there products. You just have to 'skip' the ones that are not interesting to you. Not always easy, but a must, as there is only so much 'non-session' time. I know most of the vendors complained about the lack of audience (and it certainly was less than other years), but quantity is less important than quality. Better 1 good lead, then 10 gadget-hunters. This does not mean I did not get my fair share of goodies and t-shirts :-) There are some wonderful apps out there. My only disappointment is that a lot of applications have such a bad user experience. I really need to step into the UI consulting business: There's lots to be done !
Looking forward to next year's Showcase, to find out what 'professionals' are going to do with XPages.
Universal Studios on Wednesday evening. What can I say: it was freezing; it was undercrowded, the attraction were OK, but not WOW, except for the Simpsons Ride, it rocked. I liked the new Shrek 3D movie too.
GuruPalooza: It's always nice to see this 'gathering of the brains', this bunch of wizards together on stage. It was great to be able to recognize many familiar faces. A lot of them wearing my 'Read my Blog' button ;-)
I closed of Thursday evening with a dinner in nice company at an incredible 'Brazilian Steakhouse ! Laurent (IBM Belux), I can't tell you how much I enjoy these events. It's only the second year in LS history that 'my' IBM is doing an effort to get the Belgian attendees together, and it's really appreciated.
For my Belgian yellowbleeding readers: put March, 19th in your agenda for the first
BLUG event
! Be there !
Need
some
a lot of sleep now.
Back home 2morO.
Category: Lotus Notes Domino |

Technorati: Lotus, Notes, Domino
Comments (0)
0 Responses
No Comments Found
Leave a Reply