Posted by Theo Heselmans on January 20th, 2009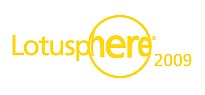 The eagerly anticipated OGS (Opening General Session) didn't disappoint (much). The Blue Man Group were just incredible (including the 3-men band). They both opened and close the session, and really warmed up the audience (a fully packed and huge room). Bob Picciano looked like a guy who is in charge, and knows what he's doing. He radiated confidence (which is good), but he should have left his suit and tie at home ;-) At last he was NOT wearing a fluo GREEN tie. Getting 3 major customers live on stage was certainly an improvement over previous year videos.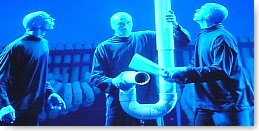 The special guest was Dan Aykroyd. Obviously better than last year (Costas), but his one (long stretched) anecdote didn't catch on. I was glad he left the stage, even if he was on it for only 10 (15?) minutes. Good voice, likable face, but boring content. Where are the days of Neil Armstrong, Patrick Stewart, Giuliani, ...?
The demos where OK, and evenly spread across all Lotus offerings. Bluehouse renamed to LotusLive. Huh ? "Everyone does 'live', let's hop on the bandwagon ?" I just don't know. Yes it's a cool name; No, it's not original. Let's hope it will make it. It certainly has potential.

Next I went to some cool sessions on XPages. I'm really eager to start playing with it when I'm back home. What a great technology! In 8.5.1 it 'll even support the Notes Client: Whoopee!
Maureen Leland; what can I say: she drools on her own stuff (Designer), and we drool and rejoice along ;-)
After a quick stop at the 911 booth at the Showcase reception, I briefly went to the Dutch drink (sorry, only for people from Holland and Flanders). Had a nice chat with Marnix & co. Then it was off to the Swan, for a great dinner with Ernst & Young and IBM at Il Mulino. The wine (which I had to pick (I wonder why?)) and the food were excellent. Especially the red: A 2006 Morgante Nero d'Avola from Sicily. Bliss. Thanks Melanie (and team) for a great evening.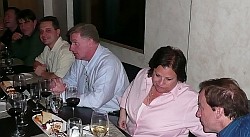 Before I forget: IBM will actively support OpenNTF, and IdeaJam won the CTO Award: congratulations to both !

What wonders will 2morO bring ?
Category: Lotus Notes Domino |

Technorati: Lotus, Notes, Domino
Comments (3)
3 Responses
on 20/01/2009 20:18:19Jos

The Blue man group? never heard of them. Apparently no big announcements were made.

Looking forward for more updates.

on 21/01/2009 8:41:01Martin Vereecken

I like your "review" of the opening session: it's just plain honest (instead of just wowing for everything you see), great! Looking forward to the rest of the "reportage"...

on 26/01/2009 16:10:56Graham Bassett

Theo, it was indeed a very nice evening - thanks for the wine choice - perfect. Still think a Barolo was in order :-)

Congratulations on your winning tool....well deserved.

Hope to see you next year - if in London let us know and we can meet up and share a glass or two of vino with you.

Bye for now,

Graham
Leave a Reply