Posted by Theo Heselmans on January 18th, 2009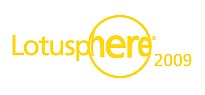 I know, I should have attended BDD (Business Development Day), are at least a few of the Jumpstart sessions. I didn't and never have!
On a Sunday at LS I have only 2 items on my schedule: shopping and partying. The classical Pool Party (I know I should call it 'Welcome Reception') this year had a prequel: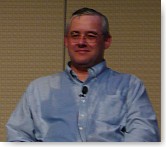 The Turtle himself had a special session called
'The Turtle's Guide to LS'.
The room was packed, most of the Notes intimae occupied the front rows.
Scott (the Turtle) started off great, and invited some guests like Bruce, Matt, Libby and Bill.
We all had a great time.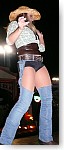 Then we were all off the to the Pool Party. The tent at the Swan wasn't there for the first time in history! Overall it lacked the theme 'ambience' we had other years.
But I certainly enjoyed every minute of it, as I encountered one known face after the other.
A lot of people asked for and got a 'Read my Blog' button: Andy Donaldson, Yancy Lent, Chris Blatnik, Mitch Cohan, Bob Balaban, Paul Mooney, The Turtle, Warren Elsmore, Tim Tripcony, Denny Russell, Viktor Krantz, Math White, Mary Beth Raven, Devin Olson, Keith Brooks, Nathan Freeman, Andrew Pollack, Gregory Engels,...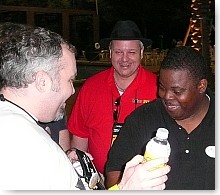 During the early after-party, Devin finally got hold of a bottle of Lotus-water. Nathan thanked Ray for being so generous and explained to him that 911 owned part of the water, as being a sponsor.

Boy, it feels good to be back.


Tomorrow, the real LS starts.
Let's see what it has in store...
Category: Lotus Notes Domino |

Technorati: Lotus, Notes, Domino
Comments (3)
3 Responses
on 19/01/2009 11:57:00Karel

Have a good one Theo, hope we can meet again next year ;)

on 19/01/2009 12:05:01Denny Russell

Great to meet you tonight. Thanks again for the button.

on 19/01/2009 19:16:51Jos

Enjoy LS Theo. I look forward to more updates on your blog
Leave a Reply