Posted by Theo Heselmans on January 23rd, 2008

Strange LS day today. I only went to 1 session, but a good one: Jack Ratcliff showed off the latest release of Ext.nd. Great framework. Still a long way to go, but it's very promising !
I did not intend to do my 7 to 8 appdev upgrade exam, as I hardly have used Notes 8, but I was given a voucher for a free exam, so what the heck, I'll give it a try. I first spend 2 hours in the prep lab 'getting ready'. Very difficult/new topics for me: composite apps, web services,... . Then 75 minutes exam. I needed the have 45 correct answers out of 60 questions (75%). I got ... 73%. Bummer, 1 more good answer and I would have passed. A bit disappointing, but hey, not bad for a Notes 8 newbie.
Later I covered the whole Showcase. Saw some cool stuff, got some nice gadgets, talked to some interesting people.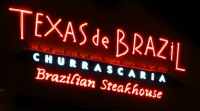 Tonight I was invited by the Belux (Belgium-Luxembourg) IBM team at an awesome Brazilian restaurant.
Wonderful food, so-so wine from Argentina (OK, but not as good as yesterday), succulent meat, likeable company !
Tx Laurent for the initiative (the first time IBM Belux does this !).
Category: Domino/Notes Lotusphere |

Technorati: Lotus, Notes, Domino
Comments (4)
4 Responses
on 23/01/2008 14:28:52Stefan

Hmmm... The gadgets make me curious already... you will have to show them to me when you come back!

on 23/01/2008 16:11:02Jos

To bad you missed that 1 question.

Now what ? Stop drinking all those nice wines, study some more and back to the excam room ?

on 3/02/2008 17:16:50Laurent Boes

Hi Theo,

It was my pleasure!

Great to discover your blog, I was never here before...

Hope to see you soon again and of course next year in Orlando!!

on 17/02/2008 21:32:20Hedwig

Hi Theo,

Fine blog! I red your article about the winetasting with the club this month. I had the same feeling: welcome to reallity!

PS: you will receive the entrance cards for Batibouw this week. One condition: we see eachother on the Bellfires-stand, palais 6.

Give Hilde a big hug from us.

See you friend.
Leave a Reply