Posted by Theo Heselmans on October 16th, 2010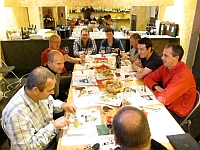 What was expected to be the 'least' interesting part of Italy, ended up having a few surprises.
Emilia-Romagna, Umbria, Lazio, Marche, Abruzzo and Molise where on the agenda.
Toscana (Tuscany), even if it is part of middle-Italy too, will be covered next week, considering the importance (and fame) of this region.
One red grape varietal stood out: Montepulciano.
Don't get confused. A famous DOCG in Tuscany is called 'Vino Nobile de Montepulciano'. Montepulciano is at the same time a town and a grape varietal.
We also had a Sagrantino, which unfortunately was a bit disappointing. In whites both the Trebbiano and Verdicchio did not deliver. On the other hand, a Pecorino (same name as the cheese) was nice.
The Abruzzo is certainly a promising wine region. Umbria is catching up too.
We ended the evening with an attractive sweet wine from Emilia-Romagna, based on the Malvasia grape.
Here's an overview of the wines we had:

A Trebbiano from Abruzzo. Average.

An almond-bitter Grechetto from Umbria.

This Verdicchio from Marche smelled nice (flowers), but I wasn't keen on the taste (grapefruit).

A more mineral Abruzzo (Terre de Chiete) made from the Pecorino grape. I liked it.

The first Montepulciano from Lazio (region around Rome). Nice nose and palate.

A Montepulciano d'Abruzzo. Great nose (plum, cedar, tobacco), strong tannines, balanced acidity.
Good price/quality (17,45 EUR).

Another Montepulciano, this one from Marche. Slight smell of 'old cellar'. Might have been incorrect.

Strange Sagrantino from Umbria. Promising, but missed sustenance, and was a little 'over the hill'.

A very nice sweet Malvasia from Emilia-Romagna. Intense nose of almonds, honey, dried grapes. Good sweet-acid balance (important for a sweet wine).

Extra1: another Verdicchio from Marche. A but similar to the previous one.

Extra2 (out of scope): A nice Primitivo from Puglia. Hope to taste it again 2 weeks from now.

Extra3 (out of scope): Another Primitivo di Manduria. Incredibly heavy bottle. More important: excellent wine!
Next Friday Toscana (Tuscany): looking forward to that.
Category: Wine |

Technorati: Wine
Comments (0)
0 Responses
No Comments Found
Leave a Reply