Posted by Theo Heselmans on October 11th, 2008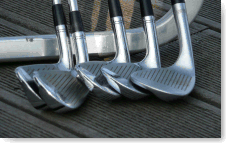 For some time now I've been thinking of giving golf a try. I never got to it until a couple of weeks ago, I was invited to a 4 hour golf initiation course.
Yesterday, a most splendid sunny autumn day, I might add, we went to the Millennium golf club in Beringen-Paal (only a 20 minute drive from where I live). A great venue indeed.


After our first (but not the last) drink of the day (I so love the 19th hole) we started on the 'green' learning how to 'putt'. Just incredible how grass can still grow, being so short. Next up: Chipping. I was more difficult than I thought it would be. 'Drive' was the final act. Finally I could let myself go, and unleash my frustration on the white ball ! I didn't count, but I must have missed the little devil as much as I hit it ! But I liked it nevertheless.
Time for another Duvel (If you don't know it, try to get hold of the excellent Belgian beer, you won't regret it (unless you drink to many in a short period)).
The last hour was spent on a 9-hole practice court. After some drinks, we were invited to a nice dinner.
Thanks, Nick and Lena, for a great afternoon and evening !
I must say I enjoyed the experience (and the partners in crime), but I think you need to have lots of time on your hand to really master it, and even more time to enjoy golf as a hobby. Well, maybe when I retire !
Of course I took a lot of pictures. You can see we had loads of fun.
Category: Personal |

Technorati: Personal
Comments (2)
2 Responses
on 12/10/2008 15:45:40alan lepofsky

You will NEVER master it, but you can learn to enjoy it.

on 15/10/2008 0:03:19Lena

We had lots of fun... Putting, chipping, driving & lots of swinging. I really enjoyed it!

Tastes for more!
Leave a Reply