Posted by Theo Heselmans on May 5th, 2010
After returning from Egypt for a relaxing holiday, which was extended by 4 days thanks to an angry volcano on Iceland, I was invited for a weekend in the Provence (south of France). The TGV (high speed train) took us south 900 km, in 4 hours. Very smooth trip.
The Provence itself has beautiful nature, cozy villages, friendly people, but above all great food and wine. We visited 2 domains, one in Gigondas (Du Pesquier) and one in Beaume-de-Venise/Vacqueyras (Bouletin).
The highlight of the weekend however was a diner at a 2 Michelin star restaurant in Les Baux-de Provence, called 'Oustau de Baumanière'. Great interior, incredible food, friendly staff, wonderful company, but for a wine buff like me: wine-Valhalla.
Here's some pictures of the food we got: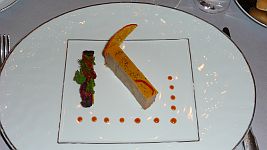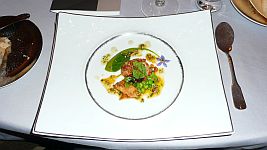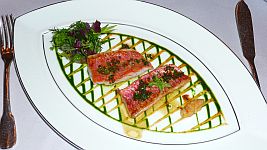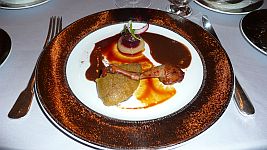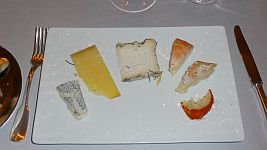 The wines we had during dinner (I can guarantee you that choosing wines from a huge (about 100 pages) wine list, having to pair well with the food, is daunting and exhilarating at the same time):
| | | |
| --- | --- | --- |
| Champagne Belle Epoque, Perrier-Jouët, 2002 | Meursault Genevrières, Louis Jadot, 1999 | Châteauneuf-du-Pape, Vieux Télégraphe, 1995 |
When asked to visit their 'cave' (wine cellar), they graciously accepted. Boy, were we in for a surprise!
They stock around 50.000 bottles, and claim to have one of the top 10 wine cellars of the world ! I took some pictures of bottles the eager sommelier showed us. We sure were drooling, as he showed us some 'big' wines too.
Château Petrus (at least 100), here the 1975s

Château d'Yquem (racks full)

(1934 on the wine-list: 5000 EUR !)

Château Latour (many too)

Château d'Arche, Sauternes, 1893

Gevery-Chambertin Premier Cru, Joseph Drouhin, (old)

Château Cheval Blanc, 1995

Ermitage, Jean Louis Chave, 1990

Château Lafite-Rothschild, 1870

Château Le Pin, 1992

Château Margaux, 1934

Château Haut-Brion, 1928 & 1929

Château Suduiraut, Sauternes, 1900
Now do you understand why we could not keep our saliva under control ;-)
Category: Wine |

Technorati: Wine
Comments (6)
6 Responses
on 5/05/2010 14:50:25Wim

Mmmmm looks like my cellar (in heaven)

on 5/05/2010 16:37:25Russell Maher

Awesome post! The Mrs. and I just had to settle for booking a trip to Napa instead of Provence for this September 'cause this poor old Domino developer could not swing the time and money this year. Napa will be fun but now more than ever I am shooting for Provence for next year.

I am probably a Luddite but out of everything you have shown here I would have loved to taste the d'YQuem. Ahh someday...

On our honeymoon we went to Louis XV at the Hotel de Paris in Monaco and also Enoteca Pinchiorri in Florence and I can totally relate to the challenge of an unbelievable wine list with truly fine dining.

on 5/05/2010 16:45:10Theo Heselmans

@Russell: Weird isn't it, I would love to go to Napa one day :-)

on 5/05/2010 16:54:16Laurent Boes

It was funny seeing you on the TGV back home ;-)

on 6/05/2010 23:32:13Riet

Great !! Good pictures ... but haven't you forgotten the desserts and sweets ?-;)

on 15/08/2010 1:12:23nicky

Wow, the food looks superb! Think its time for me to go to a quality restaurant, defenitly after seeing this.
Leave a Reply