Posted by Theo Heselmans on January 21st, 2009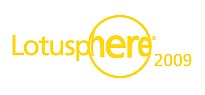 Remember I told you that I managed to get an entry submitted for the Teamstudio Spotlight Award 2009.
Well, it turned out I was one of the 3 finalists !
Just incredible !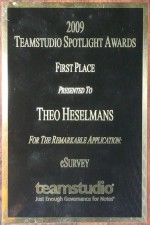 I got a phone call from Lindsay informing me about this 10 days ago,
followed by a webex demo for the judges last Monday.
Tonight at the Teamstudio Reception in the Dolphin,
the finalists were announced for the public
(that's why I couldn't talk/brag about this sooner).

I actually ended up being the winner
and I'm extremely proud !!!

Kudos to the other finalists. You guys did great.


Thanks to Teamstudio for organizing this event.
This award makes it possible for developers, otherwise hardly known for doing a great job, to get in the spotlight for once.
Thanks to the judges too. I can imagine it's not easy picking out the 'best' applications/developers among all submitted entries.

If you doubted entering this contest: don't.
Submit your entry next year, for your 5 minute glory.

Updated: More info about the winning app.
Category: Lotus Notes Domino |

Technorati: Lotus, Notes, Domino
Comments (18)
18 Responses
on 21/01/2009 8:02:12Ulrich Krause

Congratulations !!

Now tell us more about the application, please :-)

on 21/01/2009 8:37:49Martin Vereecken

Wow, Theo, it must be great to get this kind of appreciation! Way to go!

on 21/01/2009 8:39:45Jos

Knowing your passion for doing a superb job, I'm not suprised Theo.

Enjoy the recognition !

Warmest congratluations

on 21/01/2009 9:50:48Ben Poole

Couldn't happen to a nicer chap. Congratulations Theo! Now, can you tell us anything about the app? ;-)

on 21/01/2009 10:44:11Karel

Great news, congratulations!

on 21/01/2009 12:11:56Vitor Pereira

Congratulations Theo! Those are indeed great news. Well done.

on 21/01/2009 14:23:32Pedro Quaresma

Congratulations Theo!

on 21/01/2009 14:43:08Stefaan Van Kerckhove

Theo, congratulations. Needless to say we are expecting a demo next week.

on 21/01/2009 16:16:23Kurt Debaene

Theo, Great to read that you got the award. Congratulations.

on 21/01/2009 16:34:49Roland Harth

Congratulations, Theo! That confimed me again that we are on the right track with your tool.

on 21/01/2009 17:20:17rene heselmans

Great news big brother!!!

on 21/01/2009 17:39:10Alexander Wilms

Theo,

I am used to get surprised by Notes developers from time to time with functionality that you would not associate with the classical Notes database application. But when I saw the eSurvey system for the first time I was really enthusiastic - a fully fledged web application, feature rich and easy to use. I really appreciated how we did the last release, it was fast, very constructive, and I really appreciated how you anticipated additional requirements that had not been specified. You have really earned this award!

Alex

on 21/01/2009 18:49:14Theo Heselmans

Tx all of you who congratulated me (here on the blog, or live at LS). I am really honored.

As soon as I get the approval, I'll put some more information about eSurvey on this blog.

on 22/01/2009 10:54:49Stefan Balcaen

Hi Theo,

Congratulations with your award. Never doubted for a second that you would be the winner!

Enjoy

on 22/01/2009 11:59:40Dimitri Baudonck

Congrats Theo!

on 26/01/2009 9:07:31Bert Gilles

Hi Theo

Ambitious as I know you are, you allways manage to show your rightful pride without showing any trace of haughtiness. That's what I like about you!

Great congratulations for a great guy!

Bert

on 26/01/2009 17:48:54Chris Blatnick

Congratulations, Theo. That is excellent news. I look forward to reading more about the application!

on 26/01/2009 17:52:40Michael Wenn

Hey great job and a pleasure rewarding such a great piece of work. Our judges were clearly blown away.
Leave a Reply