Posted by Theo Heselmans on November 22nd, 2008
How often do you get invited to a tasting of 10 year old Spanish Rioja's ? When Michiel (visit
Vinotopia
) told me he had 24 Rioja's to evaluate, I was thrilled to be part of it.
Some wines tend to (or are known to) get better by age. Most wines however are made to be drunk young, and don't age graciously. Don't always believe the label telling you the wine can age 5 years or more.
These are some of the conditions to be met to have aging-capable wines:
correct varietal (tannines)
grapes grown under the right circumstances (terroir)
harvest at exactly the right time (acids and alcohol)
the wine made technically perfect
maturing, handling and storing in optimal conditions
Expectations for these 10-year oldies (1998 !) were rather low, and yet the average quality was astounding. Almost none of them had oxidation (the cause of 'death' for most (too) old wines). A few even were considered young. Unfortunately 3 bottles were corked.
All wines were tasted blind and points were given before revealing the bottle itself.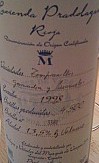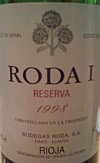 These where excellent:
Vina Ardanza, Reserva
Muga Reserva
Pagos Viejos
But for me, these 2 stood out:
Marques de Vargas, Praddagas
Roda I, Reserva
(there was also a Roda II, which disappointed)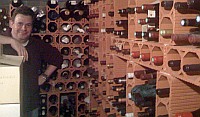 Our host Michiel gave me a quick tour of his wine-cellar. Quite impressive.
He has a nice application for entering his tasting notes, but doesn't have anything to register the wines he bought.

(Note to self: make a iPhone Wine Cellar application synching with Notes as soon as technically possible)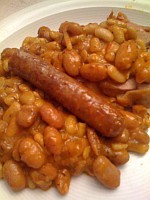 We ended the
evening
night with a wonderful lamb-bean stew prepared by Christine (thanks), and a couple of excellent (supplementary) bottles.
A memorable evening: many excellent wines, good food,
and above all in good company.
Category: Wine |

Technorati: Wine
Comments (2)
2 Responses
on 22/11/2008 11:44:37Vitor Pereira

Theo, how long until you retire from this IT madness and start your wine business? :)

on 7/01/2009 1:11:10Caspar

Allee Theo! Toch geen spelfouten in blog post titels hee?

-- CASPAR ;-)
Leave a Reply