Posted by Theo Heselmans on October 4th, 2008
As everyone is sharing their working 'habitat', here's mine:
and Yes, it's usually this tidy!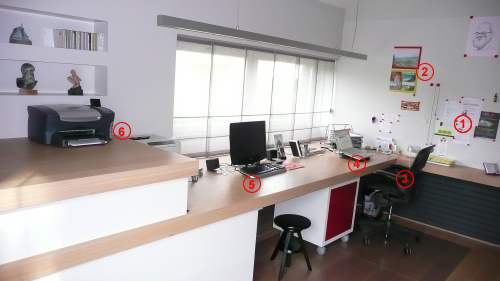 And this is what's behind my back:
1. Wine-events coming up
2. Some holiday pictures
3. My beloved 15 year old Aeron chair
4. The workhorse MacBook Pro
(running Vista most of the time!)
and next to it my iPhone
5. My wife's PC,
and my game PC
6. A laser-printer
and a HP multi-functional
7. Steps to reach the top shelves !
8. Some tech books
9. My mini museum:
a Mac SE/30 (working !),
some Newtons,
some masks
10. Part of my SF/Fantasy
book collection
Category: Personal |

Technorati: Personal
Comments (3)
3 Responses
on 4/10/2008 20:43:54Steve McDonagh

Theo!

Are you sure you are a geek????

That is WAY WAY WAY to tidy!

Where are the 10 used coffee mugs?

Where are the beer tins/bottles?

But most of all where are the post-its and piles of paper?

Steve

on 5/10/2008 9:04:54Theo Heselmans

@Steve:

I prefer order to work in, even if it's Geekwork.

I hardly ever drink coffee/tea: so no mugs.

I hardly ever drink beer/wine when working.

I hate post-its (as they fall off anyway).

I put piles of paper in a closet ;-)

An yes, I'm a zero-inbox guy too !

on 5/10/2008 20:24:47Jackson Edgewood

I love that Aerons can last forever. I really wanted one for my home office but I knew I could never afford it. If you want a new one I'd check out preownedaerons.com. Its such a great concept. I got this barely used chair for a huge fraction of what it would normally cost.
Leave a Reply