Posted by Theo Heselmans on June 29th, 2007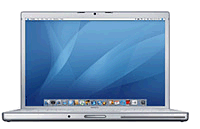 I ordered a brand new Mac Book Pro 15" a couple of weeks ago. Don't know why it takes so long to deliver. Could be because I asked for the speedy 160Gb 7200 rpm harddisk.
Anyway, I've been waiting for so many months now (for the new models to arrive), a week extra won't harm.

Because I partially live in the Notes Designer, and because most of my clients use Windows, I'm going to run both Boot Camp and Parallels.
Now the million dollar question:
What do you recommend: XP or Vista?
Is Notes 7.02 stable enough to run on Vista ?
Let me know how you feel.
Category: Apple Mac |

Technorati: Macintosh
Comments (3)
3 Responses
on 1/07/2007 18:17:16Stephan H. Wissel

XP. You don't need the Vista overhead. And Parallels 3.0 in Fusion mode (you will forget that there is Bootcamp). The official Vista ready Notes version is 7.0.3/8.0

:-) stw

on 20/08/2007 15:51:44Voytek Wicinski

Theo,

I'm thinking about getting new laptop and I MacBook Pro is my strong candidate. The only concern that I have is my need to use Notes Designer. Can you tell me which software you used to run vista and if you had any problems using designer.

voytek

on 20/08/2007 16:03:08Theo Heselmans

@Voytec

Don't worry, get a MacBook Pro, you won't be disappointed !

I installed Boot Camp 1.4b, Vista Business, Notes 7.02.

I've had no problems at all (running for over 3 weeks now).

Vista is very stable, and Notes and the Designer are too.
Leave a Reply