Posted by Theo Heselmans on January 17th, 2010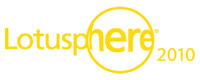 This is my 15th Lotusphere, but my first time on campus (at the Dolphin itself).
After a bad start in Brussels (1 hour late departure due to a technical problem), I barely got my connection flight from JFK to Orlando (my luggage didn't make it though).
I had a great chat with Sean, who works for UNICEF, and who was heading for Lotusphere too.
After checking in, I immediately went to the ESPN where I met the 'cool' guys & girls: Scott (the Turtle), Bruce, Gayle, Ben, Tim, Matt, Paul, Julian, Troy, Bob, Mitch, Gary, Victor, Andy, Sean, Bill and many others.
Had some excellent Sam Adams ;-)
Some pictures here (some were not for publication):
Matt White: love your T-shirt

Julian Robichaux: Ben (Poole) are you paying attention

Bruce Elgort: serious as ever

Tim Paque: care for another Sam Adams, Viktor (Krantz)
Great start for a great week. But after being awake for 24 h., I need my
beauty
sleep.
Until 2morrow.
Category: Domino/Notes Lotusphere |

Technorati: Lotus, Notes, Domino
Comments (1)
1 Responses
on 17/02/2010 16:40:33Martijn de Jong

Hi Theo,

Did you learn from Sean what happened at UNICEF and this story of them migrating from Domino to Exchange?
Leave a Reply