Posted by Theo Heselmans on November 15th, 2010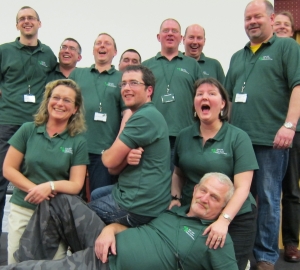 I've returned from Belfast, (Norn Iron) UK, where the 3 day ILUG conference was held.
It felt good seeing so many familiar faces again. As I arrived before the actual start of the conference, I helped out 'filling the bags'. The hotel of the venue, was located out of the city center, so I was happy that there was a great Indian restaurant next door. I just love Indian food. Of course the evening was not complete without some Guinness! Steve McDonagh added some of his home made brew to that :-)
Wednesday morning kicked off with a nice keynote by Kevin Cavanaugh. Especially the Project Concorde (multi-user editing of Symphony document) was interesting. We also got an update on Project Vulcan. Looks promising.
Went to some good sessions. Bill Bucan is not only funny, but he gave some great tips too. I spent quite a lot of time talking to the sponsors (thanks for your support). The day ended with 2 very cool sessions: Warren Elsmore shared his passion for Lego, and the Nerd Girls got romantic. Paul Mooney treated everyone to a tourist bus tour in Belfast city. It was freezing, but we all had a great time. Took some nice pictures (I'll send them to Paul, so you can see them all together).
The second day had a few surprises: a very informative session on using XML and RDBMS as source for XPages, by Paul Calhoun; followed by a 'way over my head' XPages extensibility API presentation. Ed Brill gave us a good overview of Lotus land, and a look into the future. After some very useful tips at the speedgeeking, we all had a great laugh when Steve McDonagh told his view on the history of Ireland. Thanks Steve.
Day 3 had a lot of XPages sessions in store for me. Paul Withers, Tim Clarke and Matt White all delivered. Julian Robichaux's presentation about (geo)locations was extremely useful. Maureen Leland gave us a glimpse of where the Domino Designer is going. Mary Beth Raven lead an interesting discussion regarding IBM vs. community. During the closing session, the sponsor prizes were drawn, and some people got lucky (including me, tx Francie).
'The whole family' had a great Indian diner again, and a few beers :-)
Very short night, as I had to get up way too early to catch my flight back home. Ed Brill got me into a Lounge at Heathrow, and we had a relaxing chat.
A big thanks to Paul, Eileen, Steve, Warren, Kitty, Matt, Bill, Julian, Mike, Coatsee, Kerr, ...
3 days full of great content, but above all, full of friendship !
End of yet another very successful ILUG.

Next up: Lotusphere in January, BLUG in March and UKLUG in May.
See y'all there.
Category: Lotus Notes Domino ILUG |

Technorati: Lotus, Notes, Domino, ILUG
Comments (0)
0 Responses
No Comments Found
Leave a Reply