Posted by Theo Heselmans on February 28th, 2010

A month from now, our full day BLUG event is coming on March 30th. Today we announce the complete agenda and all approved sessions. It was tough to decide which abstracts would be accepted. And as usual those that made it are happy, and others are disappointed.
The only winners are the attendees, and boy, do we have something for you !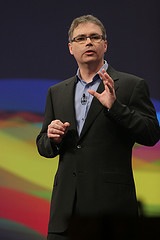 Our keynote speaker will be Alistair Rennie,
the new GM of IBM Lotus Software !

We got some more great and famous speakers lined up !
Warren Elsmore, Gabriella Davis, Stuart McIntyre, Matt White, Thomas Bahn, Ulrich Krause, Tim Clark and many others, will be there for you.
Here's the full list of approved sessions,
and the days agenda.

Your sponsorship is still very welcome.
Our current sponsors so far: Thank you !

Registration for the Event is required. Hurry, seats are limited.

Hope to see a lot of you there !
Category: Lotus Notes Domino BLUG |

Technorati: Lotus, Notes, Domino, BLUG
Comments (1)
1 Responses
on 28/02/2010 14:48:11Giuseppe Grasso

wow, no less than Alistair Rennie on the keynote and a really impressive list of speakers. great work!!
Leave a Reply