Posted by Theo Heselmans on December 10th, 2007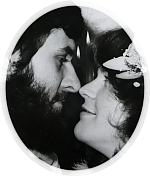 Today is our 25th wedding-anniversary!
I would love to thank my wife Hilde for putting up with me for so long. Being the wife of a wine/computer/gadget/notes freak can't be easy. Seeing me go to Lotusphere next month for the 13th time is not 'good times' for her.
Were having a party this evening, together with family and friends. Looking forward to it.
The only down side to such an anniversary is that you start to realize that you're getting old(er)!
Category: Personal |

Technorati: Personal
Comments (4)
4 Responses
on 10/12/2007 16:19:35Vitor Pereira

Congratulations! I hope you both have a great day.

on 10/12/2007 18:56:33Kevin Pettitt

Theo, Hilde, congrats! Theo, I guess those aren't blonde accents in your beard ;-)

on 13/12/2007 12:14:24Riet Bots

Congratulations, Theo and Hilde !!

Hilde, for those LN-days ... try to plan every evening some nice movie, diner, ... Time 'll fly, and maybe, Theo 'll stay home next time -;) !

on 15/12/2007 8:54:02Theo Heselmans

@Kevin,

I color/dye my beard gray, to look more mature :-)

@All,

Thanks.
Leave a Reply